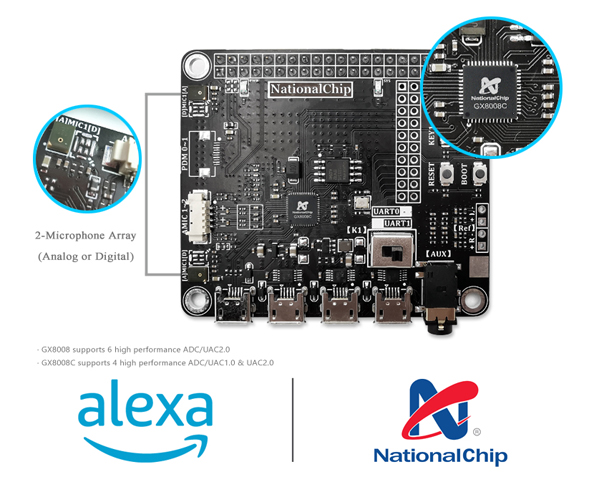 Hangzhou, China - 22 February, 2023 - NationalChip, a leading STB and AI solution provider, announced its cost attractive 2-microphone array far field ACM (Alexa Calling and Messaging) solution is a AFE ACM solution qualified by Amazon. The solution is based on GX8008 series that just uses 2 microphones (analog or digital) voice pre-processing technologies and supports beam forming, noise reduction, and stereo acoustic echo cancellation. Embedded with optional 4 or 6 high performance ADCs, powerful DSP core and large SRAM, by supporting UAC1.0 (USB Audio Class 1.0) & UAC2.0, GX8008 series solution reduces a lot on BOM cost and offloads computing capability of main application processor. It will well balance the far field performance, system cost for IoT, smart home and so on.
"ACM, powered by Alexa Voice Service (AVS), enables customers to do things like making calls and sending messages to friends and families easily in a handsfree manner." said Vincent Huang, CEO of NationalChip. "NationalChip hardware and algorithm teams have spent abundant resources on engineering optimization in order to support both human-machine interaction and human-human communication. We are proud of being AFE ACM solution qualified by Amazon, and we believe this ACM feature will be very useful and popular among customers."
About NationalChip
NationalChip is a leading fabless semiconductor company that specializes in IC design and solution development for digital TV and IoT oriented applications. With over 20 years' experience in IC design for digital communications, audio-video, and artificial intelligence fields, NationalChip empowers digital TV STB, industrial control, intelligent voice-activated applications with SoC, algorithm and software total solutions.
NationalChip offers many AI solutions, such as world leading ultra-low power NPU chips, high performance and cost attractive audio DSP chips, with millions of units AI SoC shipped in the past years. We will continue to invest more resources to bring industry leading and innovative technologies to our customers.
Learn more at nationalchip.com or contact marketing@nationalchip.com. Follow us on LinkedIn and Twitter.
(Remarks) Alexa is a registered trademark of Amazon. All names of products or services mentioned in this press release are trademarks or registered trademarks of their respective owners.